Founded in 2017, Just CBD is beginning to establish their name in the CBD market. Based out of Coral Springs, Florida, Just CBD also has operations in the UK that is run in a London-based office. 
Just CBD is has recently begun marketing their products in earnest. There's not too much information about who they are on their website but do indicate that the company was founded on the premise that "cannabidiol is Mother Nature's secret miracle."
Just CBD: A Brief Company Overview
According to their website, Just CBD believes that the CBD business has been consistently misrepresented with inferior products and false information. Just CBD has made it their mission and promise "never to misrepresent the content of their products."
Doing their best to remain transparent in the industry, Just CBD offers lab test reports, however, they don't indicate if reports are done by a third party lab. Lab results also aren't exactly readily available on their website. To attain lab test results customers must enter their product's batch report number under the "Lab Reports" page on the Just CBD website.
While they don't offer any information about where the hemp was grown to source their products, they do indicate on their labeling that their products are made in the USA and 100% certified organic. Just CBD is also a member of the Florida Hemp Council.
Just CBD: A Wide-Range Of CBD Product Options
When it comes to CBD, Just CBD has options aplenty. While some CBD brands choose to focus on traditional products like tinctures, CBD gummies, CBD capsules and CBD topicals, Just CBD's product line goes a few steps further.
At Just CBD you'll find:
Here we'll take a deeper look into exactly what Just CBD has to offer.
Just CBD Tinctures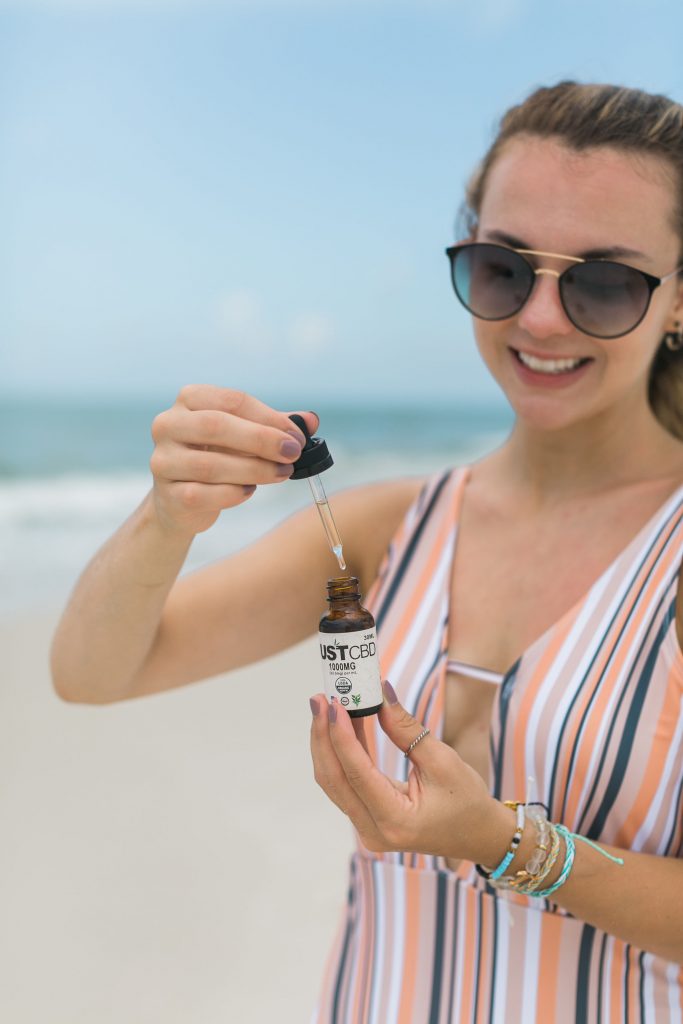 Just CBD offers several different CBD tinctures in six different milligram options including 50mg, 250mg, 550mg, 1000mg and 1500mg.
Prices range from $3.00 for their "Daily Dose 200mg Formula" that contains one serving of what they say is approximately 65mg of CBD, to $98.99 for their 1500mg tincture bottles.
Just CBD truly has a CBD tincture option to fit anyone's budget. Their 50mg CBD tinctures are just $9.99, offering an affordable option for someone interested in seeing if CBD is right for them.
Just CBD is a bit different that other companies in that they offer their CBD tinctures with different carrier oils. For example, customers have the option of choosing coconut oil, hemp seed oil or liquid honey oil as a carrier, all of which are available in five different milligram sizes.
CBD Gummies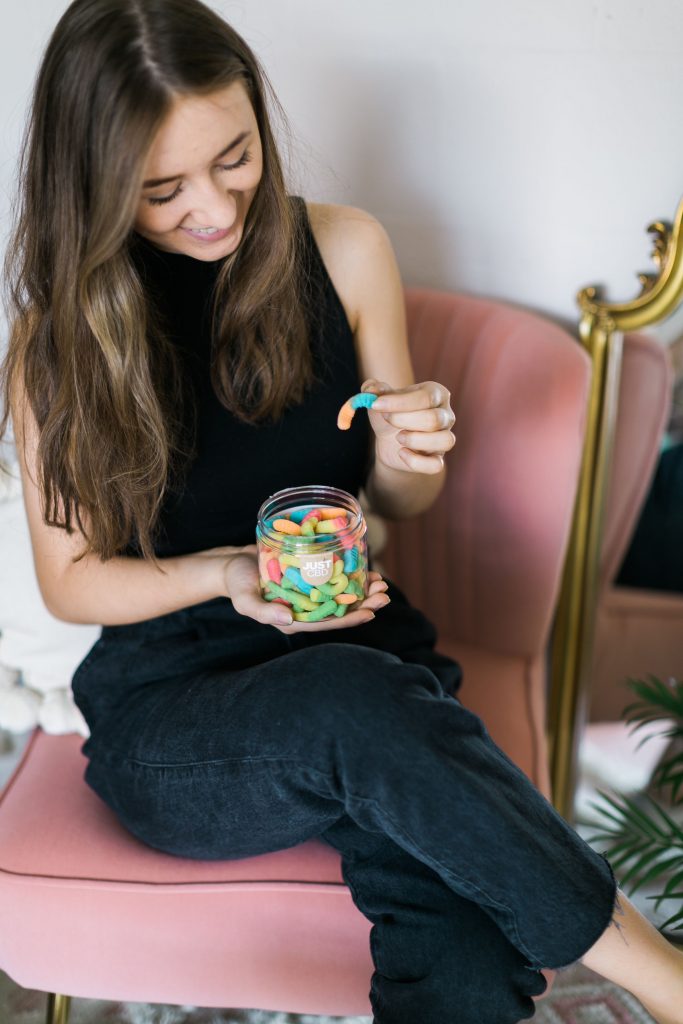 CBD gummies are undoubtedly one of the most popular options for taking CBD. They're tasty, fun and offer a precisely measured serving size of CBD so you know just how much CBD you're taking.
Much like their tinctures, Just CBD has a few different options when it comes to gummies.
Their gummies range from 8mg-25mg per gummy and there is a plethora of different flavor options to choose from including: clear bear, sour bear, clear worms, sour worms, happy face, apple rings, peach rings and blueberry rings.
All of Just CBD's different flavored gummies are available in five different milligram strength jars (250mg, 500mg, 750mg, 1000mg and 3000mg).
Prices range from $12.99-$99.99.
We tried Just CBD's 1000mg assortment of gummies. While they're not exactly the most healthy of gummy options, we did find that they were comparable to other gummies on the market that we've tried. They seemed to do the trick, with us feeling a deeper sense of calm after eating a few.
CBD Vape Pens, Vape Oil And Cartridges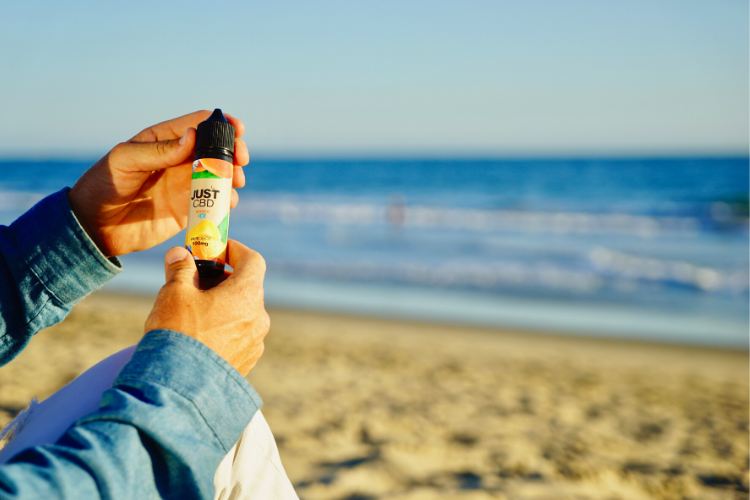 Vaping CBD is considered the quickest way to feel the effects of CBD. Just CBD understands that many people are looking for rapid relief, which is why they offer vape pens, vape oil and vape cartridges in an array of different options.
Just CBD's Vape Pens run $9.99, are rechargeable and available in eight different colors.
CBD Vape Oil is available in eight different flavors including Blue Dream, Blue Razz, Cookies, Mango Ice, Watermelon OG, Pina Colada Ice, Strawberry Cheesecake and Pineapple Express.
Each flavor is offered in four different milligram strengths (100mg, 250mg, 500mg and 1000mg) and range in price from $15.00-$49.99.
CBD Edibles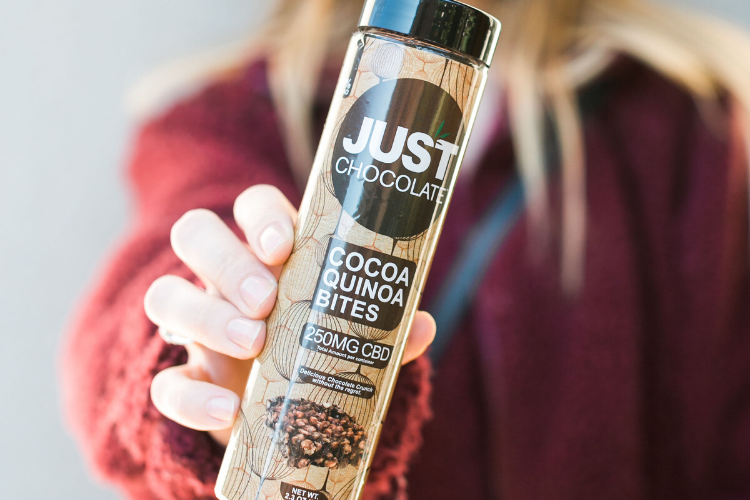 For those who prefer to eat their CBD in the form of delicious edibles, Just CBD has you covered.
Edible options include:
Cocoa Quinoa Bites: 250mg CBD per jar ($19.99)
CBD Protein Bars: Available in six different flavors including Caramel Almond, Cinnamon Pecan, Peanut Butter, Smores, Birthday Cake and Cookies and Cream. A single bar is $4.00, and cases of twelve are available in most flavors for $48.00. Each bar contains 25mg CBD.
CBD Dried Fruit: Various dried fruit flavors infused with CBD in five different milligram strengths (250mg, 500mg, 750mg, 1000mg, 3000mg). Flavor choices include Apple Slices, Pineapple Chunks, Kiwi Chunks, Apricots, Pineapple Chunks and Mango. Prices range from $9.99-$120.00.
CBD Honey Sticks: A blend of organic honey and CBD isolate powder that contain 10mg of CBD per stick. Available in 10-packs ($15.00) and 100-stick jars ($150.00).
CBD Topicals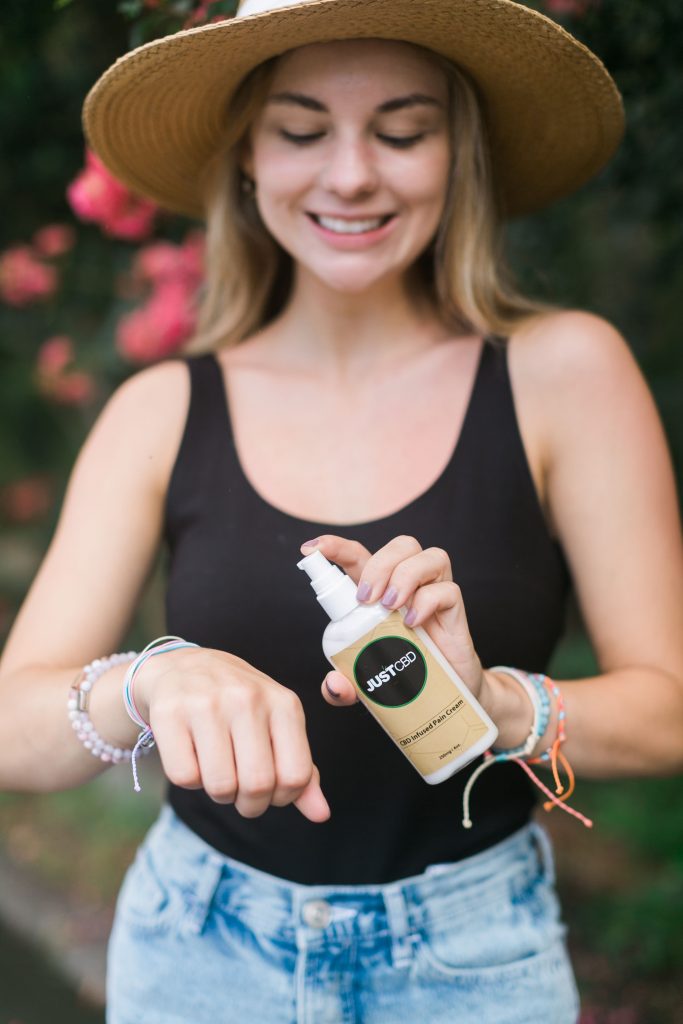 Anyone looking for targeted relief for sore muscles and joints in a topical CBD option will find Just CBD likely has an option for them. The company carries a few different topical options including a pain cream, cooling roll-on, and a gel designed for "ultra-relief."
Just CBD Pain Cream is available in 100mg ($11.99) and 250mg ($23.99) options.
Their Roll-On Cooling Pain Relief topical is available in 200mg ($24.99) and 350mg ($34.99) options.
Just CBD's Ultra-Relief Cooling Gel contains 1000mg of CBD ($49.99).
We tried the Ultra-Relief Cooling Gel and found it worked as it's advertised to. Rubbed on sore shoulders and a tense neck after a particularly long drive, we found the gel rubbed in smooth, wasn't too sticky and went to work quickly to provide the relief we desperately needed.
CBD Bath Bombs, Soap And Massage Oil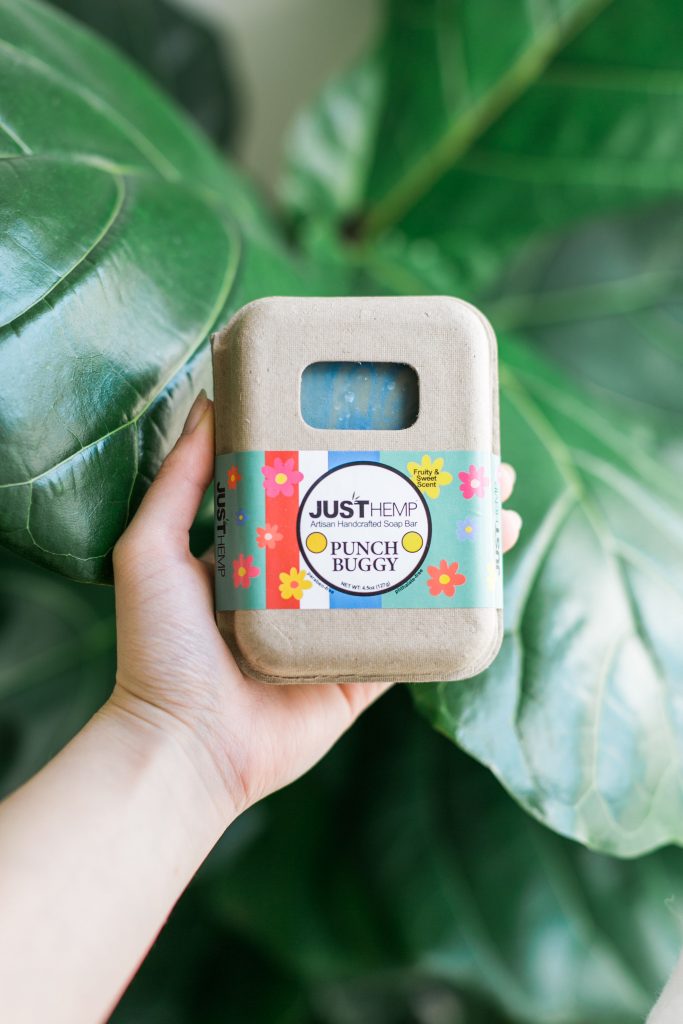 We happen to think CBD bath bombs are one of the best inventions ever and were happy to see that Just CBD included them in their wide array of products.
Each bath bomb ($9.99) contains 25mg of hemp isolate powder and is available in six different scents including Deep Spices, Floral Scents, Fresh Air, Open Fields, Fruit Explosion and Ocean Breeze.
Just CBD's Hemp Soap ($4.99-$6.99) is available in eleven different scented options including Flower Power, Cherry Pie, Natural, Citrus, Patchouli, Woodstock, Winter Forest, Punch Buggy, Hempfetti, Happy Daze, Pomegranate.
Just CBD Massage Oil ($24.99-$39.99) is available in 250mg and 500mg options. According to their website, it offers a warming sensation that glides on smoothly with a pleasing cinnamon aroma.
Jet Setter Multi Vitamins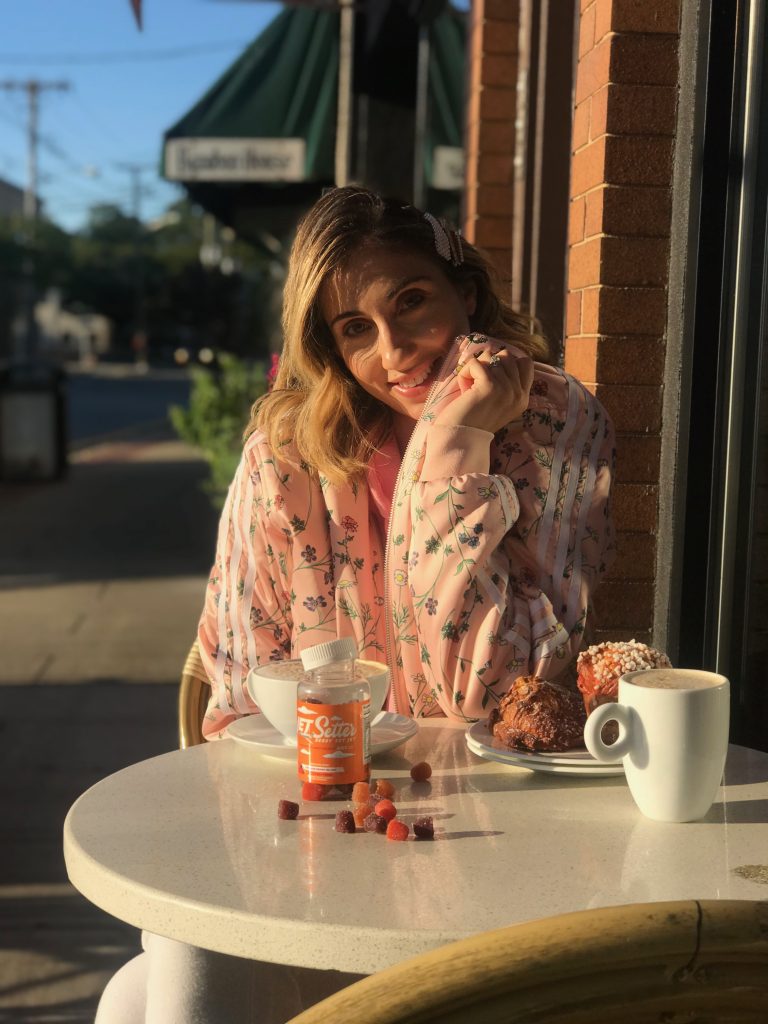 Jet Setter is Just CBD's multi-vitamin with added CBD. They're designed for those who frequently travel and inspired by hip-hop star Flo Rida and Dr. George Tabi.
According to Just CBD, Jet Setter is "perfect for folks with crazy travel schedules, like active performers boarding international flights to Europe or business executives riding the subway system to get to work every day."
Needless to say, they're packed with a multitude of vitamins, antioxidants, herbal extracts, amino acids and 5mg of CBD for those who need to quickly boost their health and energy levels.
Jet Setter is available in Orange Berry Blast flavor, with each bottle ($24.99) containing 60 gummies. Just CBD recommends not to take more than 3 vitamin gummies a day.
Final Thoughts On Just CBD
Just CBD seems to be doing their best to make a solid reputation for themselves in the CBD industry.
With a huge line of products and a lower price point than we've seen with many other brands, they seem eager to establish themselves in the CBD marketplace.
Those looking for an affordable CBD product with almost endless options to choose from, Just CBD could just be worth looking into.